IHF Diary
National Council & Management Committee Meeting

22/11/2017 -

10:00am

to

4:00pm
log in to view »
Want to feature your Hotel on our site? Click HERE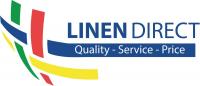 Linen Direct Ltd. is an indigenous Irish company based in North County Dublin. 
We have over 36 years' experience supplying quality linen to:
Hotels, Guesthouses and Self-Catering Apartments
Commercial Laundries
Student Accommodation & Property Management
Nursing Homes
Hostels and Charity Organisations
Restaurant & Event Management Specialists
Leisure Clubs & Spas
Wholesale Textiles
Online Retail
Over the years, our business has developed considerably by
listening to the needs of our customers and sourcing the best quality products at competitive prices with a next day delivery.
Most likely while on a weekend away or on a business trip, you will have already slept on our bedlinen, used our towels in either a hotel, gym or spa, or eaten at tables dressed in our table linen.
Our motto is QUALITY • SERVICE • PRICE and everyone here at Linen Direct works hard to achieve this every day.
Please browse our website www.linendirect.com or ring us to
discuss your needs and we will be happy to help and advise you.
 
« Back